From NYT Bestselling Author, Laurelin Paige and USA Today Bestselling Author, Sierra Simone comes a steamy contemporary romantic follow-up to last year's bestseller P*rn Star.
The Cover: Hot Cop possibly has the best cover of the year and if you've read my posts before you KNOW how picky I am with book covers so that's huge! When I picture Chase that's exactly what came to mine and it fits the essence of this story so well but mostly Chase so I love it. A++++
Basics: Hot Cop was released on June 13th 2017 and is 288 pages long. Genre wise Hot Cop belongs to contemporary romance.
You have the right to remain sexy.
Anything you say can and will be used to get you in my bed.
You have the right to use my body to give yourself a delirious, life-changing orgasm.
If you have trouble...don't worry, I'm a bit of an expert in that department. There's nothing 'thin' about my blue line, if you catch my drift, and trust me, I know how to put those handcuffs to good use.
Livia Ward wants a baby before she's thirty. And even though Officer Chase Kelly is exactly the kind of cocky jerk this librarian has sworn off, he is undeniably hot. Both of them think they can give each other what they want--a few nights of fun for Officer Kelly, a no-strings baby for Livia--but this hot cop is about to learn that sex, babies, and love don't always play by the rules.
Overall thoughts: I loved Hot Cop! Laurelin Paige and Sierra Simone are the Batman and Robin of the romance book world and they just need to keep writing books together for the rest of their lives. Their words, story and characters leap right out of the page and into your heart. I laughed, I swooned and I definitely wanted more of Hot Cop. If there was ever a couple that created chemistry it would be Livia and Chase. Holy cow! I needed a fan while I read this book guys and I can assure you that you'll need one too because that's how steamy Hot Cop is! Love, love, loved this book! A great summer read!
Couple Chemistry Rating: 5/5 Shells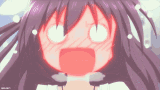 Favorite Quotes: "He's hot. Like, I-forgot-what-I-was-going-to-say-hot. I-should-have-shaved-my-legs-hot. Here's-my-panties-sorry-they're-so wet hot." -Livia
"I'm not into men, but I'm so in love with Chase. I'm so in love with Chase." -Livia
Buy & Read Hot Cop Today!
Amazon US: http://amzn.to/2qWZKHQ
Amazon UK: https://goo.gl/ZDoq3a
iBooks: https://goo.gl/qO4Bjv
Nook: https://goo.gl/Rsb9w4
Paperback: http://amzn.to/2sa4s2q
Add to GoodReads: https://goo.gl/3LqvE1
About Laurelin Paige:
USA Today and New York Times Bestselling Author Laurelin Paige is a sucker for a good romance and gets giddy anytime there's kissing, much to the embarrassment of her three daughters. Her husband doesn't seem to complain, however. When she isn't reading or writing sexy stories, she's probably singing, watching Game of Thrones or The Walking Dead, or dreaming of Michael Fassbender. She's also a proud member of Mensa International though she doesn't do anything with the organization except use it as material for her bio. She is represented by Rebecca Friedman.
Connect with Laurelin Paige:
Facebook: https://www.facebook.com/LaurelinPaige/
Amazon: http://amzn.to/2knJOrx
Facebook Fan Group: https://www.facebook.com/groups/HudsonPierce/
Never miss an update! Subscribe to Laurelin's mailing list:
Sierra Simone is a former librarian who spent too much time reading romance novels at the information desk. She lives with her husband and family in Kansas City.
Twitter: @TheSierraSimone
Stay up to date with news from Sierra Simone by signing up for her newsletter today: