For April's Monthly Series Mention I am showcasing one of my favorite romance, fantasy series,
The Dark Swan Series by Richelle Mead. I am a huge van of hers, Vampire Academy was one of the first Young Adult series I ever read and is a forever favorite of mine. Mead perfectly marries both the fantasy and romance genre perfectly in this series and I am so excited to share it with you!
The Cover: If you follow Amorette's Reviews closely you know I love covers that match with the characters in the book and the story and the Dark Swan Series does not disappoint! They feature badass redheaded heroine Eugenie kicking butt on every book of this series and I love it. A+
Basics: The Dark Swan Series is a completely set of four books and each book is over 300+ pages long. Storm Born, the first book in the series was released in 2008 and the series finished in 2011.
Description:
Just typical. No love life to speak of for months, then all at once, every horny creature in the Otherworld wants to get in your pants. . .
Eugenie Markham is a powerful shaman who does a brisk trade banishing spirits and fey who cross into the mortal world. Mercenary, yes, but a girl's got to eat. Her most recent case, however, is enough to ruin her appetite. Hired to find a teenager who has been taken to the Otherworld, Eugenie comes face to face with a startling prophecy--one that uncovers dark secrets about her past and claims that Eugenie's first-born will threaten the future of the world as she knows it.
Now Eugenie is a hot target for every ambitious demon and Otherworldy ne'er-do-well, and the ones who don't want to knock her up want her dead. Eugenie handles a Glock as smoothly as she wields a wand, but she needs some formidable allies for a job like this. She finds them in Dorian, a seductive fairy king with a taste for bondage, and Kiyo, a gorgeous shape-shifter who redefines animal attraction. But with enemies growing bolder and time running out, Eugenie realizes that the greatest danger is yet to come, and it lies in the dark powers that are stirring to life within her. . .
Overall thoughts: I love this series! Usually for a book you wouldn't think fantasy and romance would work well together because they are two very different genres but Richelle Mead puts them together beautifully with her wonderful characters and exciting, mysterious plot in the Dark Swan Series. From beginning to end I was hooked and even though the series ended six years ago, I still want more! Eugenie is a fabulous herione with enough sassiness to make anyone snap their fingers and as a reader you will marvel at her strength to overcome all the difficulties she faces in the books. There is a love triangle in this series which I know might turn some of you away but I love angst, oh my goodness! Give me all the angst! The romance is steamy and will honestly make you fall for both men in different ways. My favorite part of the Dark Swan Series is the plot honestly, the twists and turns will have you questioning things for days and drawing up theories like a crazy person. But in a good way! I highly recommend this series for anyone loves romance and fantasy! You will fall in love!
Couple Chemistry Rating: 5/5 Shells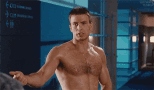 Favorite characters: I love Eugenie so much, she is a great character. Her strength, wit, sassiness and overall demeanor make her one of my favorite fictional heroines of all time. I also love Dorian because well...he's Dorian. I won't give away much but that man is one hot, fairy King.
My Rating: 5/5 Shells +++++
Buy The Dark Swan Series:
About Richelle Mead:
She
has written over twenty-five novels for teens and adults. She is the author of the international #1 bestselling
Vampire Academy
series and its spinoff series,
Bloodlines
. Her recent standalone novel,
Soundless
, draws upon Chinese mythology and history, and her forthcoming series,
The Glittering Court
, follows the adventures of girls destined for arranged marriages in a fantasy world inspired by colonial America. A lifelong reader, Richelle has always had a particular fascination with mythology and folklore. When she can actually tear herself away from books (either reading or writing them), she enjoys bad reality TV, traveling, trying interesting cocktails, and shopping for dresses to wear on tour. She is a self-professed coffee addict, works in her pajamas, and has a passion for all things wacky and humorous. Originally from Michigan, Richelle now lives in Seattle, Washington, where she is hard at work on her next novel.
Follow Richelle Mead: