For my monthly series mention for January, I am choosing the Stage Dive series by the fabulous Kylie Scott! I am so excited to share this series with you guys! It is one of my absolute favorite series with characters and stories that I adore. Kylie is incredibly funny, the kind of funny that makes you laugh out loud days later after finishing one of her books. Something else that I really admire about Kylie's writing is the fact that she has diverse female heroines, especially with their looks. Newsflash, not every woman in this world is size two and that is something that is evident in the Stage Dive series which I really appreciate. I love all of the stories, characters in this series and speaking of characters, the chemistry between these characters in this series,!! Oh my goodness you guys! I can guarantee you are going to fall head over heels just like I did! So let's dive in!
The Cover: The Stage Dive series has some of my favorite covers EVER. I tend to either love or hate a cover, there is no in between and I'm very picky when it comes to book covers. Frankly, sometimes people only buy books based on covers so I think it's important for authors nowadays to have kick ass covers that relate to their story and characters. The Stage Dive series does this perfectly; each book represents different members of the band Stage Dive, Lick represents David (the guitarist), Play represents Mal(the drummer), Lead represents Jimmy(the singer) and Deep represents Ben(the bassiest). My favorite cover is Play because I love Mal and the story within Play very much. A+ covers guys!
Basics: The Stage Dive series is a total of four books, usually between 300 and 200 pages long. Lick is the first book, followed by Play, then Lead and ending with Deep. The books were published between November 2013 and March 2015. They were published by St. Martin's Griffin.
***Note: I'm only going to post the description of Lick, all of the characters in each other (but especially in Lick) are all intertwined so I don't want to spoil anything for future readers! ***
Description: Waking up in Vegas was never meant to be like this.
Evelyn Thomas's plans for celebrating her twenty-first birthday in Las Vegas were big. Huge. But she sure never meant to wake up on the bathroom floor with a hangover to rival the black plague, a very attractive half-naked tattooed man in her room, and a diamond on her finger large enough to scare King Kong. Now if she could just remember how it all happened.
One thing is certain, being married to one of the hottest rock stars on the planet is sure to be a wild ride.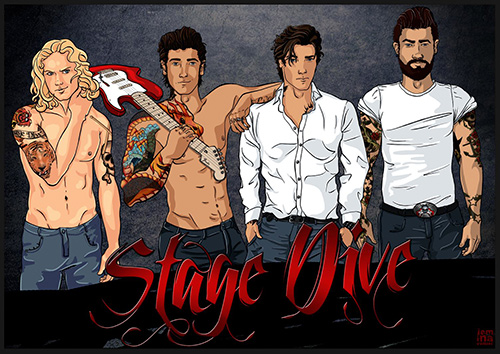 Overall thoughts: The Stage Dive series is such a fun series full of bad situations with bad pasts and history, but it's lovely and interesting to read about how hot rocker male's fall in love fighting falling in love or just falling in love and overcoming their demons and hardships. Kylie Scott writes beautifully, her writing is laugh out loud funny and the romance is perfect and steamy. I think everyone can relate to several situations and characters in this series which is one of the reasons why I love it so much, I felt connected to the books. These books will have a piece of my heart forever and I hope the Stage Dive series touches you the way it has touched me.
Favorite characters: Oh my gosh! This was so hard for me to choose! My favorite character out of this entire series is Malcom. I love his personality and the fact that's he's the drummer isn't a bad deal either! He's sexy, funny, irritating, kind…everything a romance male lead should be. I loved David, Evelyn and Anne too. But honestly no one can compare to Mal for me.
Character Chemistry Rating 5/5 Shells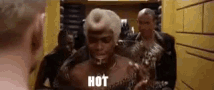 Grab your copies here at:
Till next time~