Hello everyone! I hope everyone is having a fabulous January! Since it's a New Year I decided to make another monthly post! Every month I will be focusing on a book from Kindle Unlimited. Kindle Unlimited is a fabulous subscription that allows you to access a large selection of titles from the Kindle Store. With a Kindle Unlimited subscription you have access to over one million titles in the Kindle Store, including books, audiobooks, and magazines. It costs $9.99 a month and it is SO worth it guys! There are TONS of choices and books and I highly recommend it! So without further ado, my pick for January's Kindle Unlimited blog post!
The Cover: Oh my goodness....this is cover guys! I think it's gorgeous! Ruby always has fabulous covers but I really love this love. It's smoking hot! I'm excited for future covers in this series, who would've thought that dragons and romance would go together?
Basics: Fire in His Blood was published on January 9th and is 299 pages long.
Description:
Years ago, the skies ripped open and the world was destroyed in fire and ash. Dragons - once creatures of legend - are the enemy. Vicious and unpredictable, they rule the skies of the ruined cities, forcing humanity to huddle behind barricades for safety.
Claudia's a survivor. She scrapes by as best as she can in a hard, dangerous world. When she runs afoul of the law, she's left as bait in dragon territory. She only has one chance to survive - to somehow 'tame' a dragon and get it to obey her.
Except the dragon that finds her is as wild and brutal as any other...and he's not interested in obeying.
What he is interested in is a mate.
Couple Chemistry 5/5 Shells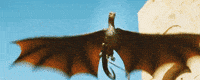 Overall thoughts: I fell so hard for this book! It literally has all my favorite genres in it, romance, fantasy with post apocalyptic vibes. Ruby Dixon does a fantastic job of putting her readers into a complete different world and drawing them with a great story. The couple's chemistry was on point, the plot kept me intrigued and Claudia has this great, witty sense of humor that I really liked. This Ruby's new series so there will be more books and more dragon love which I'm really excited about!
My Rating: 5/5 Shells
Till next time~ :)