Owlcrate is a monthly box subscription that is based around the box's theme of the month. The themes usually focus on a Young Adult series and have items that go with that series. For example, in July 2016 Owlcrate had a theme of Good vs Evil box; if you got an evil box you were given a Draco Malfoy POP figure by Funko or if you got the Good box you were given a Luna Lovegood POP figure by Funko. A typical Owlcrate box includes a box based on the month's theme along with 3-5 book/nerdy/fun items that tie in with the book in the Owlcrate and theme.
The cost of an Owlcrate is $29.99 a month plus shipping and the box usually ships around the 20th of each month. Another great part of the Owlcrate is that you can buy it as a gift for someone! It's a perfect birthday, Christmas or anniversary gift for any book lover!
The theme of February's Owlcrate was a Circus theme!
The first item of the Circus Owlcrate is a fabulous tote bag designed by Evie Bookish. It is inspired by The Night Circus.
The next two items are a candle designed by Frostbeard Studio's Le Cirque des Reves. And a lip balm by Geek Fire Labs which has a circus donut flavor!
My favorite item from this Owlcrate is this cute notepad by Attic Journals. I'm a sucker for notebooks and notepads and this notepad was made from recycled casino playing cards!
The final item in February's Circus Owlcrate is fun, sticky page flags designed by Girl Of All Work. Perfect to make your favorite quotes!
The book featured in this Circus Owlcrate is Caravel by Stephanie Garber!
I really like February's Owlcrate and I thought the theme was very fun and interesting and the items in the box fit the theme really well!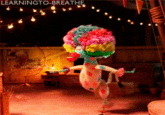 The theme for the March Owlcrate is....
So excited for Sailor, Ships & Seas Owlcrate!!!