The Cover: I love Sexy Stranger's cover! HOWEVER I HAVE ONE COMPLAINT. This book is about a cityslicker woman and a country boy falling for one another right? Where is his cowboy hat then?! The model needed to look more country! Either way I still love the cover, I just wish it would relate to the story more.
Basics: Sexy Stranger was released on May 23rd, published by Kendall Ryan and is 302 pages long. Genre wise it belongs to contemporary romance and standalone.
Description: He's rude. Arrogant. And too hot to handle.
And she's stranded with him for an entire week.
He knows the sexy stranger doesn't belong in his small town, but he's determined to keep her there. The second she opens her smart mouth, he wants to swap a whole lot more than insults with her.
She's got a secret. But he's got his own agenda.
Buckle up.
Overall thoughts: I'm usually not that big of a fan of standalone books because once I finish the standalone, I usually want more. Sometimes I feel like as a reader you don't get closure from standalones which can drive me crazy, because I think of all the possibilities that could've been done but as a standalone...the book is already over and that is that. I didn't feel that way when it came to Sexy Stranger. I loved the story, Luke and Charlotte were great as the leading couple and I felt like I did have closure with Sexy Stranger. I mean I did want to see more of Luke and Charlotte's relationship of course, but I wasn't left wondering what was going to happen next. I also believe life gives gifts at unexpected times and at the places where you'd least at expect it so I loved Sexy Stranger. I'm still trying to get into standalone books in general but Sexy Stranger is definitely at the top of my list for best standalone book of 2017.
Couple Chemistry Rating: 5/5 Shells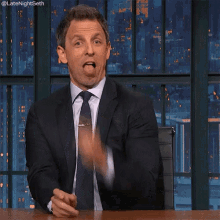 Favorite Quotes: "Your brother is too much of a gentleman."
"I don't have to be." -Charlotte and Luke
My Rating: 5/5 Shells
A New York Times, Wall Street Journal, and USA Today bestselling author of more than two dozen titles, Kendall Ryan has sold over 1.5 million books and her books have been translated into several languages in countries around the world. She's a traditionally published author with Simon & Schuster and Harper Collins UK, as well as an independently published author. Since she first began self-publishing in 2012, she's appeared at #1 on Barnes & Noble and iBooks charts around the world. Her books have also appeared on the New York Times and USA Today bestseller lists more than three dozen times. Ryan has been featured in such publications as USA Today, Newsweek, and InTouch Magazine.Visit her at: www.kendallryanbooks.com for the latest book news, and fun extras
Follow Kendall Ryan